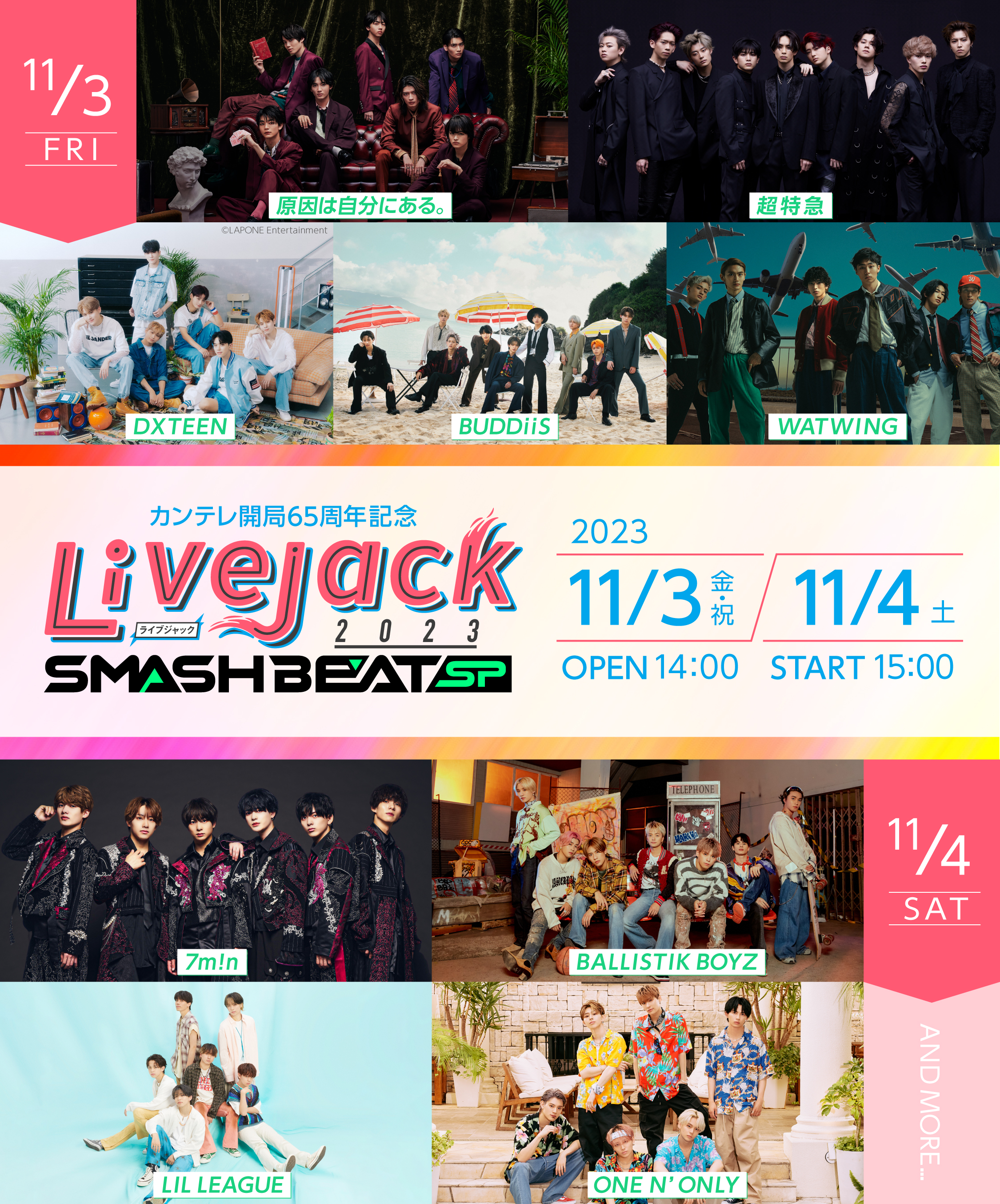 DXTEEN will appear at "Kantele 65th Anniversary Livejack 2023 SMASH BEAT SP" to be held at Osaka Castle Hall in November 2023, when Kantele will celebrate its 65th anniversary.
"Livejack" this time is a collaboration with Kantele's new music event "SMASH BEAT" that started in January this year. Titled "Livejack 2023 SMASH BEAT SP", it will be held for two days on November 3rd (Friday / Holiday) and 4th (Saturday) with the theme of "Dance Vocal".
Therefore, DXTEEN OFFICIAL FANCLUB member pre-registration will start from 18:00 on Friday, September 8th!
■ Comment from TANIGUCHI TAICHI
This is TANIGUCHI TAICHI, the leader of DXTEEN.
I was very excited when it was decided that I would be performing at "Livejack 2023 SMASH BEAT SP", and I am really looking forward to meeting many people.
The theme of this time is 8PPY (happy), so we will do our best to deliver smiles and happiness to many people on our stage!
Please look forward to the DXTEEN stage!
<performance name>
Kantele 65th Anniversary Livejack 2023 SMASH BEAT SP
<Performance overview>
■Schedule *DXTEEN will appear on November 3rd.
November 3, 2023 (Friday/Holiday) Open 14:00 / Start 15:00
November 4, 2023 (Sat) Open 14:00 / Start 15:00
■ Venue: Osaka Castle Hall
■ Official HP https://www.ktv.jp/event/livejack/
<Ticket Overview>
[SS seats] 13,000 yen [S seats] 9,900 yen (all seats reserved, tax included)
*Tickets are required for children over 3 years old.
* Up to 1 child under the age of 3 is free of charge per parent. However, if you need a seat, you will need a ticket.
*On the day of the event, there will be TV recording. Please note.
<Appearance> *In alphabetical order
■ November 3rd (Friday/Holiday)
I am the cause. /超特急/ DXTEEN / BUDDiiS / WATWING

■ Saturday, November 4
7m!n / BALLISTIK BOYZ / LIL LEAGUE / ONE N' ONLY and more
MC Hiroto Nakajima (FM802 DJ) / Minami Takahashi
---
[DXTEEN OFFICIAL FANCLUB advance reception]
Reception period: September 8, 2023 (Friday) 18:00 to September 13, 2023 (Wednesday) 23:59
Payment period: September 16, 2023 (Sat) 15:00 to September 19, 2023 (Tue) 23:00
* Applications will be accepted from 18:00 on Friday, September 8th.
* Only those who have already joined the "DXTEEN OFFICIAL FANCLUB" can apply for this lottery advance.
* Number limit: Up to 4 per person.
* If you apply for 2 or more tickets, you can also apply for non-members as companions.
* DXTEEN OFFICIAL FANCLUB [Monthly Membership Fee Bundle Payment Course] [Monthly Membership Fee Course] Both courses can be applied.
*When applyingEnter the name, email address, phone number, and Plus member ID registered in the applicant's DXTEEN OFFICIAL FANCLUBis required.
If the information you entered is different from the registered information, you may not be eligible for advance. Please note. Please check and make a note of the following before applying.
https://plusmember.jp/member/mypage/artists/dxteen/profile_menu

* You can apply if you join the "DXTEEN OFFICIAL FANCLUB" during the application period.
*If you would like to join the "DXTEEN OFFICIAL FANCLUB" from now on, please join and make a payment well in advance.
■ Precautions
[Notes regarding performances]
・Tickets cannot be changed, canceled or refunded after purchase.
・Inquiries about seats cannot be answered.
・Opening/starting time and performers are subject to change due to various circumstances. We will not refund the ticket fee, transportation fee, etc. Please note.
・Due to various circumstances such as weather and disasters, the start time and performance content may be changed, postponed, or canceled.
●Inquiries about performances
Kyodo Information 0570-200-888 (11:00-18:00 / closed on Sundays and holidays)
[Notes on applying for electronic tickets]

・Application for this reception and receipt of tickets will be limited to smartphones "electronic tickets".
・Please check the operating model and recommended environment before applying.
・If you do not have a smartphone, or if you do not meet the operating model/recommended environment below, you cannot apply at this reception. (The application button will not be displayed either.)
・Please be sure to enter the "phone number of the smartphone terminal where the ticket will be downloaded" as the phone number to be registered when applying. can not be changed after registration.
・If you have any questions about the reservation method, payment method, or collection method, please be sure to contact us before the procedure or during the various periods. Even if you contact us after the period has passed, we will not be able to respond.
・It is prohibited to resell the tickets purchased in this sale for an amount exceeding the ticket face value, to attempt to resell the tickets by listing them on internet auctions, etc., or to purchase tickets on the premise of resale.
If any of the above acts are discovered, the event organizer may invalidate the purchased ticket at its own discretion, refund the ticket price, and refuse admission. Also, if you have already entered, you may be forced to leave, so please be aware of this before applying.
*When applying for multiple tickets
・If you apply for multiple tickets, please distribute the electronic tickets to your companions in advance.
・When sharing, companions must also have smartphones. (The same operating model and recommended environment as the applicant are required.)
Ticket distribution (delivery) method
https://l-tike.com/e-tike/navi/guide/share_ticket.html
● Inquiries about how to apply and receive tickets
Electronic ticket FAQ: https://faq.l-tike.com/0001/0006/
Email inquiries: Lawson Ticket Information https://faq.l-tike.com/
* Regarding inquiries, we have stopped responding to telephone calls and are currently accepting inquiries by e-mail. It may take a few days for us to reply. Thank you kindly look forward for your understanding.